Five Quick Small Business Marketing Tips for 2019
As a budget constrained small business, marketing your products and services effectively can be a challenge. From email marketing and social media campaigns to pricing, branding, and strategy, it's quite demanding for many small business owners to excel at marketing while also focusing on growing their business.
Two-thirds of small business owners and entrepreneurs (66%) are personally responsible for three or more areas of their business, including marketing. – U.S. Small Business Administration
An effective marketing strategy can help your business get the attention it deserves. Are you struggling to start? Here are six tips to gear up your small business marketing in 2019:
1. Focus on the most powerful marketing channels
There are a plethora of organic and paid online channels that you can use to promote your small business. Using all the channels could be a big waste of time and effort. If you try doing everything, you end up getting nothing.
Try out different channels and types of campaigns if you want. Experimenting is how even the most experienced marketers learn. But the bread and butter is picking the most successful campaign types. Your newfound laser-focus reduces the learning curve and rewards you more consistently.
For example, as a B2B service provider, you could choose to mostly use LinkedIn for outreach to connect with potential buyers. It is also a  good channel for publishing and promoting articles and company news.
Funnel this fresh LinkedIn audience back to your site for lead capture. Of course, you can also turn on the charm and do some manual networking.
But remember, as Ali Colwell says in her article on No-BS networking: "The single biggest thing that can up your networking game is to approach networking as an opportunity to make new friends, not close business deals."
If you have a small fashion store, the audience composition is very different. Pay more attention to Instagram and local SEO. And of course, try to get traffic from offline to online (and back).
This way you can squeeze every drop out of your busy business schedule. Your marketing goal is to maximize your outcomes and minimize the effort. Once you know what you're targeting, it's not hard to hit the bull's eye.
2. Build customer relationships through email marketing
Email marketing is one of the most effective strategies to stay in touch with expected customers.
As it turns out, email marketing is much more popular than you thought.
83% of people prefer email as one of the channels to receive promotions from brands they trust. – Email Addiction Report 2019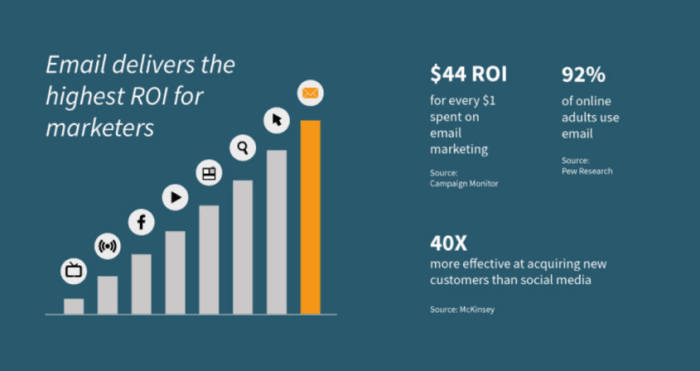 It's essential to turn your website visitors into known contacts before you can convert them into paying customers. The first step is to choose the right tools. There is enough choice of cost-effective or even free email marketing tools to compare and integrate the email software with your website. This will automate lead collection from your website to the software.
To collect email addresses of your potential customers you can use website popups and contact forms. You can offer giveaways and free trials to get your audience to share their contact details. You can also add to your potentials by providing them with a tripwire offer.
Like… wine socks  A tripwire offer is a relatively low-cost high-quality product offer designed to get prospects into your sales funnel. It's usually priced at $5 – $50 with the majority being less than $20. You can choose a price according to your offering. At times companies ship the product for free or charge only for the shipping.
Once you have a set of potential customers on your email marketing list, you can build a relationship with them through purposeful campaigns. This way your business stays on top of mind and in their list of possible suppliers.
There are a variety of email campaigns you can run:
Welcome emailers (for new subscribers)
Educational content
Emailers offering discounts
New product introductions
Re-engagement campaigns
Email campaigns can help you to improve brand recall and trigger purchase decisions. To save time and effort, it is a good idea to automate your email campaigns. Using drip marketing campaigns for example. Most good email marketing tools allow you to segment your email lists and run triggered campaigns based on specific events.
Let's take an example:
Suppose you want to send an automated email campaign to a new website subscriber. This is how it will work:
Event: A new subscriber is added to your mailing list.
Action: A welcome email is sent out to the new subscriber.
Here is an example of such a welcome email from iHerb. The good thing in here is that it is very benefit-oriented. You call this a welcome email, but that is not the primary goal. Designwise the space reserved in the body of the email shows that the benefits list is most important. That is a direct tip, highlight the benefits to the new subscriber.
Like a welcome email, you can create multiple templates for each of the other email campaigns that you wish to automate. Oh, and don't forget the landing pages if you want to really maximize the ROI.
Now the calculation of email marketing ROI is pretty simple. It is the conversions versus the costs. So we keep the costs down and then work on increasing the conversions. Here is a tool to calculate email marketing ROI.
3. Promote your best content
Don't let scanty budgets deter you from social media promotion, or running paid campaigns. Produce quality content consistently on a few channels. Now unearth the power of paid campaigns to promote some of your top performing content. Using small budgets smartly, make sure that you can make more use of the content that you create and strike a balance.
It's also important to keep an eye on marketing behaviour trends and changes. For example, last year for the first time search generated more referral traffic than social media.
This type of opportunity awareness helps maximise budget allocation to areas most likely to deliver returns. Your best content has the potential to bring in traffic in both social and search if done well.
4. Tell a unique brand story
When producing content, your goal is to build an audience for it.
"Our job is not to create content. Our job is to change the world of the people who consume it." – Andrea Fryrear
The objective is to create a unique brand content voice. Think about emotional words that represent your brand.
Is your brand personality formal or informal?
Is it wacky or helpful or witty?
A consistent voice helps to build a connection with your audience. When they'll resonate with your content, they'll certainly become your followers. Customize your content to each social channel. You can study the latest content trends on social channels. For example, long-form motivational updates are doing really well on LinkedIn. Similarly, Instagram users are crazy about stories, story videos, and IGTV videos.
Here are some additional content creation tips:
Know your audience and their content preferences.
Make your content educational and entertaining.
Ideate content by looking out for industry trends.
A unique style that lends a voice to your brand will help your business to stand out. It will lead you to the door of content marketing success.
Given the huge amount of content created every day, it's hard for small businesses to be heard online. 20% should be creation and 80% promotion (not the other way around). A great way to overcome being looked over is to join forces with other small businesses who:
-Market to the same audience
-Aren't a competitor
-Also, practice content marketing and use similar channels to promote their content
You can then find ways to co-market. For instance, organise events or webinars together on common themes or other forms of reciprocal marketing. An example comes from SurveyAnyplace who started a B2B Content Marketers facebook group with members who genuinely mention each other's content in their articles. Cross-promotion!
5. Create video updates and explainer videos
Visual content is big. In a survey of 300 content marketers by Venngage on visual content marketing, 45.5% predict that more than 80% of businesses would rely heavily on visuals as part of their marketing efforts. Also, the biggest challenge for content marketers is creating content consistently (34.8%); the second biggest challenge is creating really outstanding content (31.3%).
With fast changing social media algorithms, you need to create content that sticks with your audience.  Visual and especially video content is a powerful way to get more reach and engagement on your content.